Non-cliché gifts for programmers under $50
---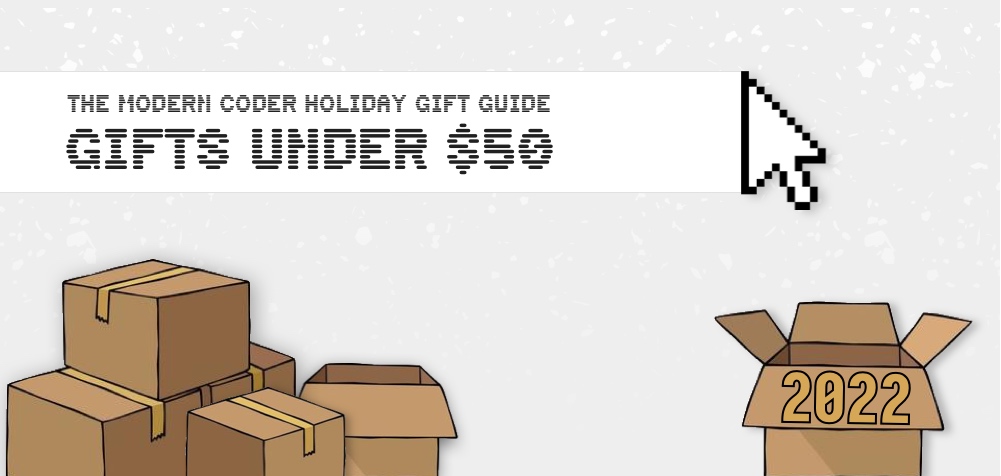 Welcome to The Modern Coder's 2022 holiday gift guide!
I have beef with these "gifts for programmers" lists - they're horribly cliché. Binary code socks, circuit board keychains - who actually wants that stuff.
Presented below are high-quality gifts that programmers actually want. I've either used these items personally, recommended them to others, or have friends who love them. Without further ado…
Non-cliché gifts for programmers, software engineers, and coders under $50
Everyone needs a wrist rest, but programmers especially rely on their keyboards to bring home the bacon, so amping up the comfort and style of their workspace is a solid bet. Many of my friends in the tech industry have this exact wrist rest and love it. It comes in black, or a more natural wood color.
Note: These wrist rests come in a couple different sizes depending on size of the keyboard. If you're in doubt: grab the "Full Size" version if the keyboard has a num pad, or the "Tenkeyless/TKL" version if it doesn't.
---
Programmers should be drinking water. We sit all day and definitely don't use our standing desks as much as we should - so at the very least pumping our bodies full of water should help. I've had several water bottles over the years but Hydro Flask crushes them. Ever since I got mine (the same model linked above) I've actually replaced using glassware almost entirely, because this thing just keeps water cold forever. It's just a well made product that you want to use, and comes in a ton of colors (I have their olive green color).
If they already have a water bottle, why not an insulated mug, or travel coffee thermos? I can highly recommend both.
---
Many programmers now work from home, and gone are the days of needing to wear shoes to work. Slippers used only inside the house are a game changer. Gone are the days of little bits of food, or dirt sticking to the bottom of your feet. I've had these slippers for at least 6 years, and with daily use, they're still going strong - plus they come in tons of colors. I might even get an extra pair for travel.
---
USB power strips are a great addition to a bedside table (or like me, under your bedside table) to simplify all those charging cables. I've used the previous version of this power strip for many years and it's performed great. I might even pick up an extra for the living room.
---
Fanny packs are back - for everyone. Programmers especially like gear that is practical, and nothing is more useful than a fanny pack. Trust me, I've seen more and more folks in the tech industry start to rock these things. Aside from Cotopaxi being a company with a nice mission, not all gear for techies has to be black.
They're currently sold-out on Amazon, so I've directly linked to the Cotopaxi website instead.
---
No joke, I love this thing. The vibe the projections create is amazing. The star projection is quite good thanks to the laser module, and the cloud is luscious. You can set it to project stars, clouds, or both at the same time. There is a more expensive $50 model that has smartphone control; but I have the $40 version and love it.
---
Most software engineers use laptops as their primary computers, and laptop desk stands is a crowded category. I've used Rain Design products for over 5 years, and can honestly say they're worth it. They're high-quality, solid aluminum, and last forever. I'm specifically featuring their vertical stand because with the work-from-home revolution, we could all use a little more desk space; especially programmers who need room for those extra monitors.
Need a different style laptop stand? Rain Design has more you'll like.
---
These Made-in-the-USA wallets make a great gift for programmers looking to minimize their everyday carry. One of Kickstarter's most successful campaigns, TGT makes wallets in many different leathers, colors, and configurations. Since I switched to their wallets 10 years ago, I've purchased two of my own, and even more for friends. The wallets patina well over time, and last.
---
Some of the links above are affiliate links which means, at no extra cost to you, I will make a small commission if you click them and make a qualifying purchase. Thanks for checking out my guide!