Non-cliché gifts for programmers under $25
---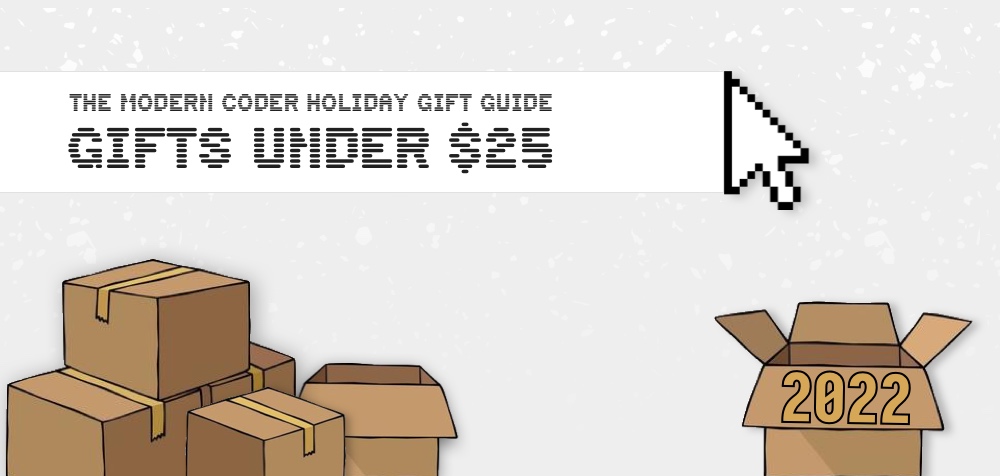 Welcome to The Modern Coder's 2022 holiday gift guide!
I have beef with these "gifts for programmers" lists - they're horribly cliché. Binary code socks, circuit board keychains - who actually wants that stuff.
Presented below are high-quality gifts that programmers actually want. I've either used these items personally, recommended them to others, or have friends who love them. Without further ado…
Non-cliché gifts for programmers, software engineers, and coders under $25
This may seem like a weird gift, but most USB cables are rigid, long, and annoying to wrangle. I've found this cable to be beautifully flexible, and great for travel. Besides travel, short/flexible cables come in handy more often than you think for DIY projects, or cable management in tight spaces. Give this one a try.
---
I can't tell you how many uses I've found for these little carabiners, everytime I'm at REI grab a few more. Unlike regular carabiners that only have a single latch, these have two so they can remain attached to their anchor point while attaching/detaching. Clip a reusable grocery bag to your belt. Attach a water bottle to a backpack. Anchor a bluetooth speaker to your bike. Uses are literally endless, and I'm sure your gift recipient will love these.
---
Music is an integral part of many programmers's daily routines, and many software engineers invest in quality headphones. Naturally those headphones need a place to live and this quality, all-metal headphone holder does the trick.
If your gift recipient is also a console gamer, or has multiple pairs of headphones, you might want to pick up one of the many other headphone hanger options - all of which are high quality metal.
---
Everyone needs a bag for something, and with more and more cities banning plastic bags, or charging a fee for paper, reusable grocery bags are a hot commodity. This one collapses into a tiny stuff sack, and has a shoulder sling for more comfortable transportation. It's made of recycled materials and packs down to palm-sized nugget.
---
Believe it or not, programmers still use physical paper for quick notes. Especially for quick architecture diagrams, or UI mockups, paper reins supreme. A quality notebook is a timeless gift. I've had at least 5 of these notebooks in various sizes over the years.
If this one is too large, why not a pocket-sized version.
---
My wife and I use this speaker mostly for biking. We clip it onto our backpacks (convieniently using a dual-sided carabiner from earlier in this guide), and off we go. Plus it's half-off for Black Friday right now (only $25 when it usually goes for $50).
---
This insulated mug will keep drinks warm for a surprisingly long time. I'm actually impressed at how long. Plus it has a lid for travel and comes in a bunch of colors.
If you think a travel thermos is more their style, Hydro Flask has one I recommend as well.
---
Class up your recipient's desk. Not only is leather a quality material that will patina well over time, this one comes in a couple different styles - including Pebble Black if black is their thing. Pair this with a solid wood keyboard wrist rest for an awesome double gift.
If you're looking for something slightly cheaper, they do have an option without the cork backing for $18.
---
Some of the links above are affiliate links which means, at no extra cost to you, I will make a small commission if you click them and make a qualifying purchase. Thanks for checking out my guide!